We are a full-service transportation consulting firm. Our solutions help thousands of people every day lead better, safer lives through improving surface transportation systems. Our goal is better mobility for all.
Our Projects
Discover how we are making a positive impact through the projects we have worked on.
Work with Us
See our open positions and how you can be a part of the Apex team!
Apex staff is comprised of transportation planners, traffic engineers, ITS experts, traffic data collection specialists, data analysts and scientists, IT professionals, construction inspectors and managers, and maintenance and operations personnel.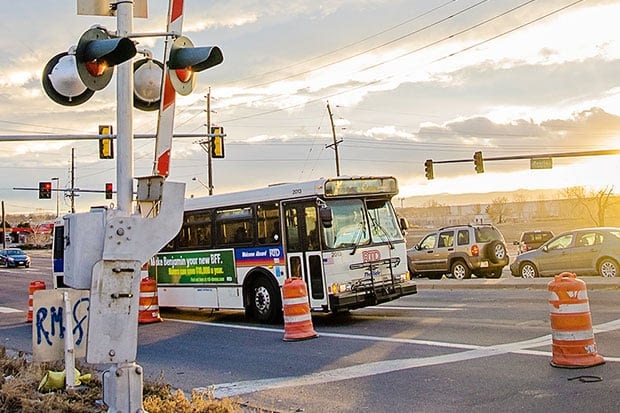 Intelligent Transportation Systems
Managed Lanes and Tolling
Integration and Installation
Generating New Ideas. Solving Big Problems.
We prepare you for the opportunities at hand and the bigger ones down the road.
Satisfied Clients and Counting
Employee Events every year
Percent Committed to Sustainability
Located just down the road from the beautiful and historic Larimer Square, Apex's office is a shining star in Denver. Our culture is guided by respect, transparency, collaboration, and tireless dedication to our clients.
Apex is committed to building a team of top talent for our clients. We are proud to be publicly recognized as a Best Place to Work by the Denver Business Journal. Our people love what they do and love working together, making them great to work with. Our culture is something that we are incredibly proud of, and this award is a wonderful testament to all the talented people that contribute to making Apex what it is – a great place to work.
who we are in our community
Our Commitment to Sustainability
In addition to helping our clients solve transportation challenges, we are determined to do our part to better the world as best we can. In 2018, we started the Apex "Green Team" in order to make sure that we are taking pointed, direct steps towards minimizing our impact on the environment.
Our management team promotes quality and sustainability in our business activities. We strive to create solutions that focus on the environmental, economic, and societal impacts of our projects whenever possible.
We exclusively offer non-disposable plates, silverware, coffee mugs, and glassware to reduce waste. Moreover, we are committed to reducing our waste by setting a compost station and various recycling stations for writing implements, plastic film packaging, batteries, snack wrappers, and single stream.
Apex encourages employees to use local multi-modal transportation options, such as bicycling. We participate and encourage others to take part in "Bike to Work" days. We also encourage the use of local transit options.
We schedule regular lunch-and-learns for employees to learn more about how to incorporate sustainability into their personal lives, organizationally, and for our clients on the projects they work on. Topics have included how to minimize waste, the future of recyclable materials, and composting.
AJ Fisher – Construction Inspector
AJ Fisher is a Construction Engineer for Apex. He is a graduate of Iowa State University with experience in ITS and construction management. AJ's background allows him to effectively collaborate with team members to promote successful completion of our client's ITS improvement projects. At Apex, AJ provides construction inspection and project management support to our clients.
Alaina Groat – Marketing and Proposal Coordinator
Alaina Groat is the Marketing Proposal Coordinator for Apex Design. She is a graduate of Mary Washington University with experience coordinating, writing, and editing complex federal, state, and local proposal responses. Alaina collaborates with team members to create responsive, compelling marketing materials.
Alex Larson – Senior Transportation Engineer
Alex Larson, PE, PTOE has focused his career on Traffic Engineering and ITS. His experience includes traffic operations, signal systems, design, and timing, as well as communications and network planning and design. In addition, he has experience in smart work zone implementation, variable message sign deployment, and Bluetooth and toll tag travel time estimation system deployment. Prior to joining Apex Design, Alex worked for Douglas County, CO managing the Traffic Signal Operations and ITS group, including maintenance staff. Alex brings his experience managing federal projects through the funding, procurement, and management phases.
Anna Lundin – Operations Coordinator
Anna Lundin is the Operations Coordinator for Apex Design. As the Operations Coordinator, Anna is responsible for managing and assisting with all aspects of office operations. Her duties include liaising with building management and office service vendors, coordinating employee travel, handling event logistics, maintaining office supplies inventory, supporting HR administrative efforts, training new employees on office policies and procedures, and assisting the senior management team as needed. Anna excels at working collaboratively with teams and senior leaders to design and execute innovative company culture initiatives and strategies that maintain a highly positive work environment. She is a graduate of the University of Colorado at Boulder.
Alyssa Shomion – Transportation Engineer
Alyssa Shomion, EIT, graduated from Michigan Technological University. Her experience includes infrastructure design, construction engineering, construction project management, and compliance for public infrastructure and economic development programs. Prior to joining Apex Design, Alyssa worked for the Department of Local Affairs on a disaster recovery program following the 2013 floods and fires in Colorado. She developed the construction program and oversaw the projects that were funded to ensure compliance with federal, state and local rules and regulations. At Apex Design, Alyssa tackles a variety of project work including ITS design, transportation study analysis, and construction project oversight.
Art Gogo – Traffic and ITS Specialist
Art Gogo is highly proficient in the installation, troubleshooting, and repairing of Traffic, Intelligent Transportation Systems (ITS), and fiber optic communications systems infrastructure. His experience spans nearly two decades and includes the testing and maintenance of CCTVs, variable message signs, vehicle motion detection systems, and other sensors. He has held leadership roles in the military, oil and gas, and construction industries. Art is an asset to all the projects he works on by focusing on quality, communication, customer service, and teamwork.
Ben Waldman – Senior Transportation Engineer
Ben Waldman, PE, PTOE has over 20 years of experience managing a broad range of transportation planning and engineering projects, including traffic studies, transportation modeling and analysis, signal timing, traffic and roadway design, roundabout analysis and design, multimodal planning and design and ITS. Prior to joining Apex Design, Ben spent time as Traffic Operations Manager and City Traffic Engineer for local agencies where he gained valuable experience with local government processes and with maintaining and operating transportation systems. Ben understands the daily challenges that public agencies face in their efforts to balance the wants and needs of the traveling public, businesses, private interest groups and governing bodies.
Brandon Martinez – Construction Inspector
Brandon Martinez previously served as an on-staff consultant field technician for CDOT. Brandon has experience working on diverse projects, including ITS device data collection, traffic data collection, underground utility locates, and fiber optic communications. Brandon is adept at making sure projects are compliant with specifications and procedures, as well as completing field and submittal reviews. At Apex, Brandon will be working on field review and construction inspection for ITS projects, submittal reviews, and fiber data collection.
Cam Fletcher – Transportation Specialist
Cameron Fletcher has a broad background working on projects for local, state, and federal agencies; most recently helping CDOT and local municipalities with ITS planning, data analysis, and technical solutions. He is a graduate of the University of Michigan, where he earned a BS and MS in Environmental Science. At Apex, Cameron continues to deliver innovative transportation technology projects throughout Colorado.
Chris Carrillo – Engineering Technician
Chris Carrillo's background is in fiber-optic communications, traffic control and tolling systems. He has worked closely with CDOT on various projects including traffic signal systems, managing the I-25 reversible HOV/toll lane system and performing underground utility locates.
Chris Goodrich – Construction Inspector
Chris Goodrich is a skilled construction inspector with comprehensive knowledge of state and local best practices. His strengths include his ability to work as part of a team, as well as his attention to detail and critical thinking skills. At Apex, Chris performs construction administration support for a variety of civil highway transportation projects for agencies such as the Colorado Department of Transportation.
Chris Santorno – Construction Engineer
Chris Santorno, PE, has experience working on a broad array of construction projects, including commercial, industrial, energy, and heavy civil infrastructure. He has fulfilled a variety of roles on projects ranging from Field Inspector and Project Engineer to Construction Manager. He has overseen work elements for ITS infrastructure, pavement analysis and design, and has performed quality assurance and control inspections, submittal reviews, and quantity tracking.
Danit Hudson – Transportation Engineer
Danit Hudson holds a Bachelor's degree in Civil Engineering from the Oregon Institute of Technology, as well as a Master's in Business Administration from the University of Colorado Denver. She has experience with roadway and traffic design and design-build projects, and is passionate about making her community a better, safer place. At Apex, Danit works on a variety of transportation-related projects.
Dave Judy – Senior Construction Inspector
Dave Judy spent 30 years with CDOT working in a variety of fields from surveying, construction materials testing, construction inspection, and project management. In addition, he spent 12 years working in the ITS industry as a planner for commercial vehicle operations and as a project manager for various projects. Dave's ITS project experience involves design and construction management for weigh-in-motion and automatic vehicle identification installations across Colorado. Also, he managed projects for the installation of variable message signs, long haul fiber optic lines, and various field devices. Dave has helped manage and deliver intersection signalization, highway lighting and emergency flood roadway repair projects.
David Murie – ITS Engineer
David Murie brings an interesting mix of experience to Apex Design. He completed his Civil Engineering undergraduate degree from the University of Utah and earned his Master's Degree in Industrial Engineering and Management while studying abroad in Sweden. David's experience includes both traditional design of infrastructure projects and work for Volvo in the area of automotive innovation. He combines his expertise with his passion for applying modern technologies and methods to create multimodal transportation systems that improve the efficiency, sustainability, and livability of our cities.
Diana McHale – Senior Traffic Engineer
Diana McHale, PE, specializes in traffic signal timing and operations. She is experienced in every step of traffic signal timing projects from data collection through design, implementation and fine-tuning. She has timed over 500 traffic signals for numerous agencies. Diana has a strong track record of innovative engineering solutions to provide improved traffic operations for the traveling public. Prior to joining Apex Design, Diana helped retime the traffic signal in Denver's central business district, which included extensive coordination, multimodal transit integration and coordination of multiple agencies and stakeholders. She also prepares ITS plan packages for a wide variety of projects.
Elliott Heckler – Transportation Engineer
Elliott Heckler, PE completed his graduate studies at Ohio University, where he studied and analyzed intersection safety. His experience includes transportation systems, traffic engineering, signal system design, and safety analysis. At Apex Design, Elliott helps to deliver a wide variety of multimodal studies, analyses, and designs for public agencies.
Eric Fuller – Construction Manager
Eric Fuller performs field review and construction management for ITS and outside plant fiber projects. He is accustomed to working with public agencies, private utility owners, designers, and contractors as he helps ensure agency specifications and procedures are adhered to. Prior to joining Apex Design, Eric worked in the telecommunications field preparing plans and drawings for construction of new, and removal and relocation of existing, overhead and underground fiber lines, cables, and conduits to obtain optimum and economical utilization of communications facilities. Eric's experience on both the private and public sector side of OSP fiber builds makes him a valuable asset to our clients.
Gabi Choi – Transportation Engineer
SoYoung (Gabi) Choi holds a Bachelor's degree in Mechanical Engineering from the Colorado School of Mines. She has experience supporting multimodal transportation projects and is passionate about making her community a better, safer place. At Apex, Gabi assists in the preparation of traffic engineering plans, studies, analyses, and reports. Additionally, she serves as a Traffic Management Center Operator and is responsible for monitoring road and weather conditions.
Gabrielle Renner – Traffic Engineer
Gabrielle Renner, PE specializes in transportation planning and traffic analysis. She is skilled in transportation modeling, corridor studies, feasibility studies, access reports, grant applications, parking studies, traffic impact studies, traffic evaluations, traffic circulation studies, and pedestrian/bicycle studies. Gabrielle's microsimulation abilities include applying a wide range of tools to accurately represent and evaluate multimodal transportation networks. She has a keen ability to convey complex technical matters to the public and build consensus among broad stakeholder groups.
Jason Duffy – Senior ITS Engineer
Jason Duffy, PE, has over six years of experience in traffic engineering, transportation planning, and Intelligent Transportation Systems (ITS) design. His design experience includes creating plans and specifications for numerous traffic signal interconnect, ITS deployment, and fiber optic installation projects. Jason has been involved with numerous tasks for multiple intersection improvement projects, safety studies, and traffic signal design projects. He has enhanced skills in data collection and design with numerous transportation software packages including Arc View, AutoCAD, Synchro, Sidra Intersection, and Microstation. Jason is well-versed in ITS field device design as well as the design of fiber optic and wireless communications systems.
Jason Freitas – Transportation Engineer
Jason Freitas, a University of Arizona alumnus with a Masters in Civil Engineering, is experienced in transportation planning and traffic operations. He manages tasks for various transportation projects, including statewide pedestrian and bicycle safety action plans, transportation master plans, corridor profile studies, traffic simulation modeling, traffic impact studies, and multi-modal assessments. Jason is highly motivated and enthusiastic about solving Colorado mobility issues by developing innovative solutions through engineering and technology.
Jason Osaki – Senior ITS Engineer
Jason Osaki has many years of transportation engineering experience and specializes in ITS and its supporting communications networks. He has ITS experience with every phase of project development including planning, concept of operation and functional requirements documentation, design, procurement, deployment, integration, troubleshooting and maintenance. Jason has worked on ITS projects across the nation for both the private and public sectors. Jason's recent design accomplishments include upgrading video transport from analog to IP, including streaming video display systems; TMC design modifications that incorporate ergonomic and anthropometric considerations; deployment of Wavelength Division Multiplexing (WDM) optical transport systems for CDOT; and developing requirements and procurement documents for traffic signal system software and controller hardware/firmware.
Jeff Ream – Senior Transportation Engineer
Jeff Ream, PE, PTOE, has 20+ years of experience managing traffic engineering, transportation, and transit planning, and travel demand modeling projects. Jeff's work focuses on balancing the travel needs of all road users, giving equal consideration to the needs of pedestrians, bicyclists, and motorists. Building community consensus is critical to the success of any transportation project, so public involvement is a key aspect of his job; one of Jeff's greatest strengths lies in conveying technical concepts to the community in an easily understood language.
Jerry Mayo – Traffic Management Center Operator
Jerry Mayo is a Traffic Management Center Operator for Apex. He is a highly detailed-oriented professional with more than three decades of experience related to the coordination and management of emergency and traffic control centers. He is adept at ensuring the continuous, trouble-free operation of public safety systems for the traveling public. Jerry's approach is direct, and he takes on a hands-on approach to tasks to deliver successful TMC functions. In previous roles he has been responsible for the coordination and performance of TMC contracted services performed in DOT operations, and assisted with the development and maintenance of policies and procedures. Jerry has managed and staffed both traffic and emergency operations centers throughout the US. He has dedicated his career to public safety, dating back to his previous his time as a fire department battalion chief.
Jessica Burch – Senior Civil Engineer
Jessica Burch, PE offers over a decade of multi-discipline experience with a background in highway engineering; urban and rural roadway design; utility design and coordination; signal design; signing and striping design; maintenance of traffic; and stormwater management. Jessica has a demonstrated ability to provide quality designs on schedule and ensure project success.
Jessica Hernandez – Senior Transportation Engineer
Jessica Hernandez, AICP has worked with communities across the Front Range on complete streets projects, parking strategies, transit evaluations, and safety assessments. Her work has often focused on refining complex transportation data into results that can be used to make informed decisions. She enjoys supporting stakeholders to create safe places for people of all ages and abilities to travel. Jessica remains active in WTS Colorado and is a graduate of the University of Florida.
Jose Benitez – Transportation Engineer
Jose Benitez earned a Bachelor of Science degree in Civil Engineering from Dordt College. He has experience with analyzing and interpreting traffic and tolling data, and is passionate about sharing his insights with his community and country of origin to make them better, safer places. Jose's talent and dedication resulted in him being recognized as an ASCE 2019 New Face of Civil Engineering. At Apex, Jose works on a variety of transportation-related projects.
Josh Mehlem – Senior Transportation Planner
Josh Mehlem, LEED AP has a strong understanding of the complexities associated with implementing non-motorized transportation projects. He has designed bicycle, pedestrian and trail infrastructure across the Western US and Colorado. As a LEED Accredited Professional, he integrates sustainable ideas and complete streets practices into each of his projects. Josh is skilled at converting master plan visions into detailed construction documents based on community consensus. He is currently on the National Committee for Uniform Traffic Control Devices and is a graduate of the University of Arizona.
Katherine Castellarin – Administrative Assistant
Katherine is a recent graduate from the University of Colorado. As an administrative assistant at Apex, she ensures the smooth operation of the firm. Katherine also provides support to the Apex team in coordinating their ongoing professional development, training workshops, and travel. Her organizational, administrative, and interpersonal skills help create an engaging work environment.
Ken DePinto – Senior Transportation Engineer
Ken DePinto, PE, brings over 30 years of ITS and Traffic Engineering experience delivering transportation projects to Apex Design. His career has spanned planning, design, construction, maintenance, and operations. During his tenure at CDOT, Ken was the ITS Branch Manager and oversaw the ITS program and its $100+ million in assets. Ken is also an avid cyclist, runner, and skier. His passion for cycling has led him to plan and oversee the traffic management annually for the USA Pro Cycling Challenge.
Kimberly Osaki – Transportation Engineer
Kimberly Osaki, PE completed her undergraduate studies at the University of Colorado Denver and is looking forward to attending graduate school with a focus in transportation. She is passionate about improving the efficiency of transportation systems and hopes to help plan and deliver projects using different modes of transportation. At Apex Design, Kimberly assists with the design of traffic and ITS projects.
Kristine Thomas – Office Manager
Kristine Thomas serves as our office manager to make it possible for other employees to function effectively and efficiently. Prior to shifting to this current role at Apex Design, she was a civil engineering designer and project manager for roadway projects. Kristine's engineering consulting background and professional knowledge is an asset to our staff and clients alike.
Lou Ann Hight – Accounting Manager
Lou Ann Hight, CDFA, is the accounting manager and provides administrative support in accounting, business, and project management. She is a Certified Design Firm Administrator and member of the Society for Design Administration. With over three decades of experience in the A/E/C industry she possesses a unique specialty, bringing essential skills for the demanding and ever-changing environment of a professional design practice.
Malinda Reese – Senior Transportation Engineer
Malinda Reese, PE started her career working for the City of Santa Barbara, CA, where she developed a number of civil projects for the public. She continues to serve the traveling public today at Apex Design through her work on projects involving multimodal transportation planning and engineering. Her work experience is diverse, and her ability to span both planning and engineering projects proves invaluable on the transportation projects which she is involved. In addition, she also has extensive experience preparing signing and striping plans, traffic modeling, ITS designs, and conceptual roadway improvements.
Matthew Mitchell – Data Analyst
Matthew Mitchell has a broad background working on analytical reporting and technology reviews for clients. He is an alumnus of Colorado State University with a degree in Applied Mathematics and continues his coursework in the Data Science field. Matt has a passion to understand and innovate processes to benefit the future of mobility in the connected and autonomous vehicle landscape. At Apex, he is working on data analytics for mobility and safety projects, including several connected vehicle initiatives.
Matt Rickard – Senior Traffic and ITS Specialist
Matt Rickard is a Colorado licensed Master Electrician and spent more than a decade with CDOT working on varied projects, including ITS and traffic signal maintenance, construction and operations. His extensive experience also includes fiber optic and network design, construction and maintenance. He has been instrumental on several key projects across Colorado, including working on Central 70. Matt brings to all his projects a deep commitment to providing quality products and stellar customer service through proactively addressing problems, creatively developing solutions, and being a strong team player.
Melissa Rosas – President
Melissa Rosas, PE, offers multi-disciplinary project management experience spanning planning, engineering, and construction projects. She balances the technical aspects projects and the softer skills of management, such as communication and conflict resolution, to achieve project success.
Michael Comstock – Senior Construction Inspector
Michael Comstock brings over 26 years of construction experience to Apex, which has spanned ITS, traffic signals, highway lighting, and fiber optic systems. Prior to joining Apex, he served as the Traffic Engineer for Arapahoe County, where he supervised the maintenance of traffic signing and roadway markings, and bridge maintenance, within the county. Throughout his career, Mike has worked both as a contractor building traffic signals and as an owner overseeing them.
Morgan Huber – Transportation Planner
Morgan Huber is a Transportation Planner with experience working on active transportation and public health projects. She is working on active transportation projects that create safe and equitable transportation options across Colorado. Morgan works with diverse demographics to make sure their voices are heard in the planning process. She volunteers with both WTS Colorado and APA Colorado, and is a graduate of the University of Colorado at Boulder.
Nathan Warren – Transportation Data Services Manager
Nathan is Apex's Transportation Data Services Manager, providing our clients expert traffic data collection services. He has personally conducted or managed thousands of ADT, TMC, travel time, parking, ADA and asset inventories, and origin-destination studies, utilizing multiple varieties of methodologies. Nathan has completed projects from coast to coast in the US and the Middle East. He brings to the Apex team a dedication to utilizing emerging technologies, a strong technology background, and in-depth transportation experience.
Paula Gibbs – Administrative Assistant
Paula Gibbs, CPSM, provides administrative, marketing, and accounting support for our projects. She has over 25 years of administrative experience and has been in the A/E/C industry for 9 years. Her proven problem solving and strong communication skills ensure excellent customer care to our clients.
Rua Ali – IT Analyst
Rua Ali is a highly analytical and process-oriented IT analyst with knowledge of change management processes; research methodologies; and big data capture, curation, manipulation, and visualization. Her project work enables decision-making for high-priority, enterprise initiatives involving IT and product development, customer service improvement, change management, and process reengineering.
Ryan Boothe – Construction Manager
Ryan Boothe has over 17 years of experience in the transportation field. He is familiar with both underground and aerial fiber optic outside plant construction and network design. He possesses a strong background in computer-aided drafting and GIS tools, and is certified as a fiber optic installer and designer. Prior to Apex Design, Ryan assisted with traffic engineering studies and updating the City of Greeley's Transportation Master Plan. He was also involved in the design, construction and management of a $5 million citywide fiber optic signal interconnect project. Ryan also mapped fiber optic telecommunications networks.
Ryan Kelzenberg – Transportation Engineer
Ryan Kelzenberg, EIT, specializes in design for Traffic and ITS projects. He is proficient in working with MicroStation and AutoCAD. Ryan has worked on many design projects for CDOT and local agencies throughout the Denver metropolitan area. He has completed multiple fiber network and fiber interconnect projects for Centennial, Thornton, Loveland, and Castle Rock. Ryan's experience also includes a design for the City and County of Denver to upgrade over 100 traffic signal cabinets. He has completed numerous Traffic and ITS projects for CDOT as well. Ryan also has practical field knowledge through the field reviews he has completed for multiple design projects, including field inspections and local field operations testing.
Sam Moss – Traffic Engineer
Sam Moss, PE is experienced in traffic analysis and modeling, ITS, and roadway design. Sam's diverse project history includes roadway design, construction engineering and inspection, railroad bridge design, stormwater management, and concrete testing. Prior to working for Apex Design, Sam helped develop the Florida Express Lanes Handbook and authored the Concept of Operations for the I-4 Beyond the Ultimate Express Lanes project.
Sarah Beutel – IT Consultant
Sarah Beutel holds a Bachelor's degree in Computer Information Systems and has experience with systems analysis, change management, and policy development to ensure continuous delivery of IT services. She has a passion for IT in transportation and hopes to use her analytical and service management skills to improve how public agencies serve their communities. Sarah is currently working with RTD to develop IT Cloud Change Management policies.
Scott Goetz – Transportation Engineer
Scott Goetz, EIT holds an engineering degree from Fort Lewis College in Durango, Colorado. He has experience with data analytics and delivering technical transportation projects. Scott is passionate about applying new technologies to the design and operation of transportation facilities. He is excited to be working on a wide range of technology-based transportation projects at Apex.
Scott Thomas – Principal
Scott Thomas, PE, PTOE has expertise in ITS, tolling, and traffic operations. He has been involved in groundbreaking ITS projects including active traffic management, vehicle tracking, tolling, dynamic metering, signal systems, and transit signal priority. Scott's experience ranges from planning and design to construction support and systems integration.
Shane Binder – Senior Transportation Engineer
Shane Binder, PE, PTOE, RSTP is a multimodal transportation engineer with international experience and passion for designing Complete/Livable Streets, road safety improvements, traffic signal and illumination systems, and bike/pedestrian facilities. His 14+ years of experience span across the US, Canada, and New Zealand ranging from urban streets and freeway design-builds to road safety audits and transportation safety research. His enthusiasm is most evident when he is cycling or walking through a completed project or leading a team to find design solutions to problems that do not easily fit into a standard plan.
Stephanie Ball – Transportation Planner
Stephanie Ball is a Transportation Planner with an interest in creating safe and livable communities through a variety of mobility choices. She uses research, data analysis and visual communication to support transportation planning efforts throughout the region. Stephanie is a recent graduate from the University of Colorado Denver with a Master's of Urban and Regional Planning and an active member of WTS Colorado and APA Colorado.
Tony Hurd – Senior Transportation Engineer
Tony Hurd, PE, has diverse experience that spans planning, analysis, and design for traffic, ITS, and multimodal transportation systems. Tony specializes in preparing design plans that range in size from a single intersection or interchange to large traffic and ITS plan packages that span over several miles and demand detailed coordination with multiple disciplines. His signal designs have ranged from simple, 4-phase signals to complex rail preemption sequencing and special queue detection. He also has experience preparing plan packages for signing and striping, temporary traffic control, signal system interconnect, and ITS. Tony also has experience in traffic analysis, traffic studies, and transit signal priority.
Zach Johnson – Construction Engineer
Zach Johnson, EIT, is a graduate of the University of Minnesota Duluth with a degree in Civil Engineering. He has experience working on a variety of construction projects in various roles including construction laborer, construction material testing technician, and field inspector. Zach has experience working on various projects, including installation of underground utilities, roadway construction, and material testing for public infrastructure projects.
Let's Start Something new

Say Hello!